Santa Cruz residents got a taste of what the future might hold for passenger rail on the Santa Cruz Branch Rail Line this past weekend.
Coast Futura, a community group, organized 2 demonstration weekends where residents could ride a new demonstration train, built by TIG/m in Southern California.
The streetcar used for the demos, the MRV-3 ViaTrain, is breaking down barriers for rail transit. Using hydrogen power and batteries, the vehicle is able to run without any track-side power equipment.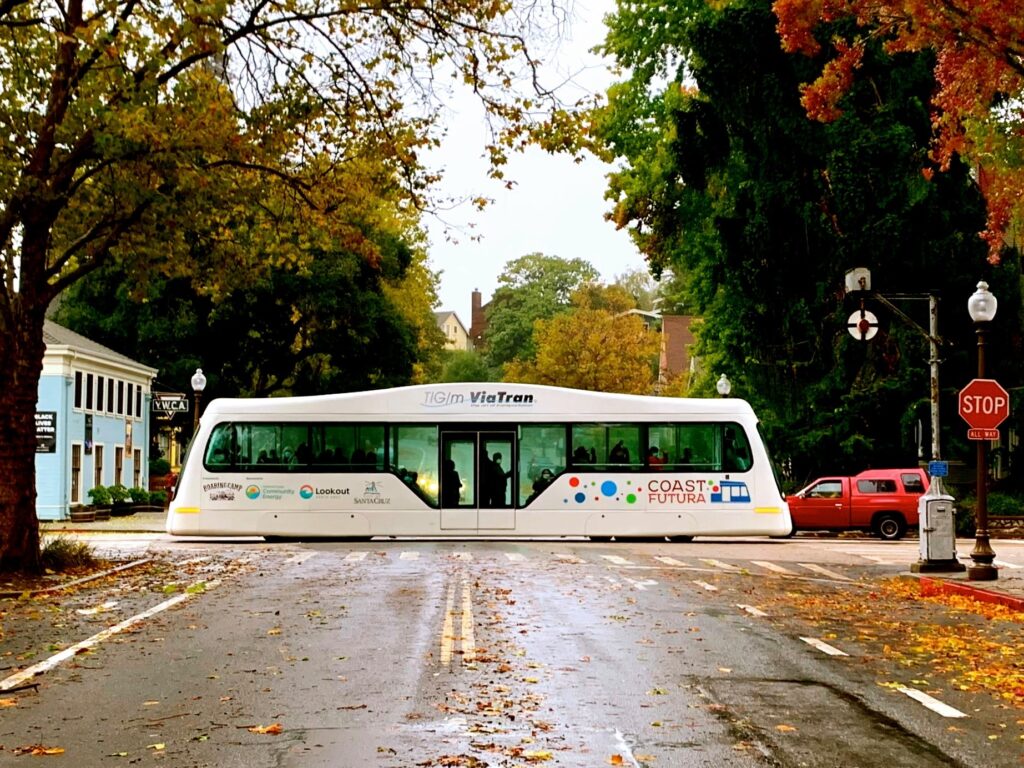 "You are riding in the most efficient passenger tram in the world right now." Brad Reed said to a demonstration train full of Santa Cruz residents on October 17th. "[…] its the only vehicle in the world that can operate for 20 hours of continuous service without having to acquire power from offboard the vehicle."
Most electric rail systems use one of two track-side power methods, either power from a third rail mounted next to the track, like BART, or power from a wire mounted above the track, like MUNI Metro in San Francisco.
Both of these methods are expensive. CalTrain, a passenger rail line between San Francisco and San Jose, is converting their 47-mile line to have electrical equipment. "The total cost of [the CalMod] project is $1.9 billion for electrification of the line […]" the San Francisco County Transportation Authority stated on their website.
Why Santa Cruz?
Santa Cruz County purchased a rail branch line from Union Pacific which ran between Watsonville and Davenport, CA. Even before the purchase in 2012, there had been plans for passenger rail to use the corridor.
In 2015, Santa Cruz County conducted a feasibility study to outline possible line configurations including station locations, required track improvements, vehicles used, and a ridership analysis among other things.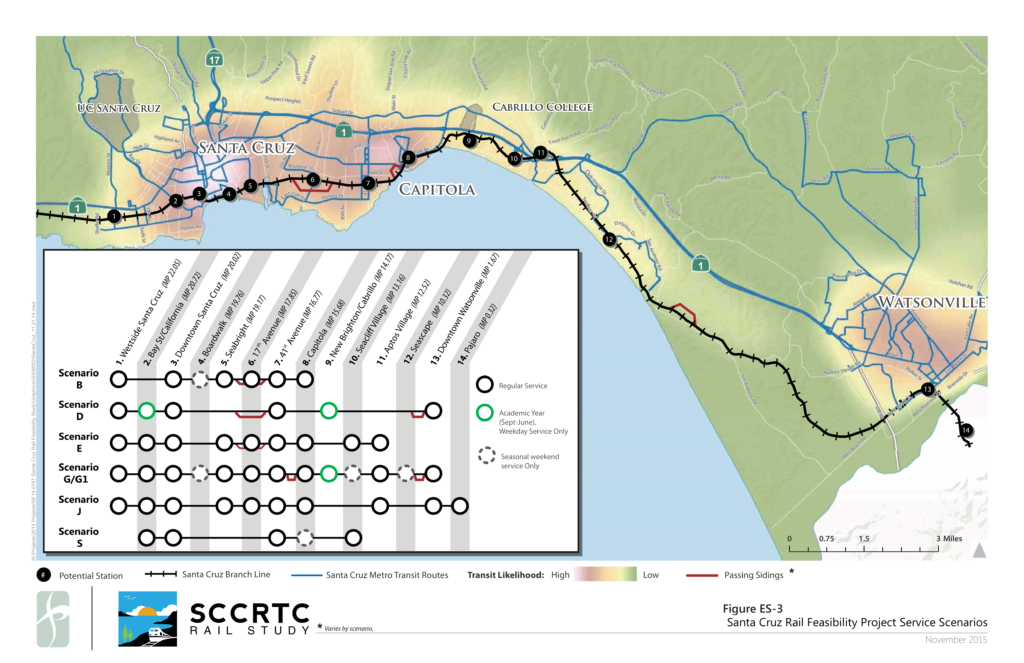 The study's estimates were based upon Stadler's GTW Diesel-Electric DMU trains, the same trains that are used on eBart from Pittsburg-Baypoint to Antioch.
The ViaTrain solves disadvantages of using DMUs identified in the feasibility study: "Slower acceleration, Higher [amount of Air Quality] emissions and Used equipment generally not available." Since the ViaTrain technology is new, there is additional risk without the benefit of used parts for maintenance.
Although the project is still in limbo, this demonstration has renewed interest from the public in the project. Talking to the Santa Cruz Sentinel, Trink Praxel, a Coast Futura spokesperson, said "They are in conversation not about a formal proposal but about some sharing of information in how this could fit in the guidelines the [Santa Cruz Rapid Transit Commision] has developed for this corridor,"